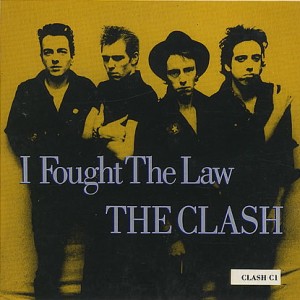 On this day in 1979 (was it REALLY that long ago?) the Clash released their first single in the USA – "I fought the Law". 
The song was written in 1958 by Sonny Curtis who played in The Crickets (of Buddy Holly fame).  They recorded it in 1959 but the most famous version was by The Bobby Fuller Four in 1966. Bobby Fuller was found dead shortly afterwards.  The police said that it was suicide, but many, many people found that to be a ludicrous conclusion.
While I am digressing, I Fought the Law appears inside Lou Reed's song Dirt on the wonderful Street Hassle album.
Back to the Clash. Joe Strummer and Mick Jones came across the song in 1978 when they were recording over dubs for their "Give 'Em Enough Rope" album.  It was on the juke box in the Automatt studio in San Francisco.  They were taken by the song (Bobby Fuller's version)and by the time they came back to the UK they had worked out their powerful version. It first appeared on the "Cost of Living" EP in May of 1969 in the UK.  Naturally, the US single got lots of airplay, how could it not?