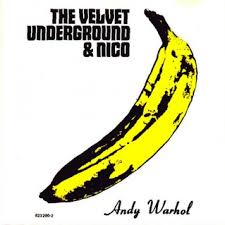 In my last post about my 100 essential albums I explained that I had removed Exile on Main Street from the list because when I thought about it I did not think that it was one of those essential albums that I could not live without.
However, its replacement, The Velvet Undergound and Nico certainly is an essential album.  The only surprise to me is that it comes so low down the list.  Released in 1967 this is the banana album.  Designed by Andy Warhol the early covers featured a peel able banana skin which revealed a peeled banana underneath.  At the time some saw this as more to do with Warhol than the music.  How wrong they were!  Brian Eno was wrong when he said that although the album only sold 30,000 copies in its first few years "everyone who bought one of those 30,000 copies started a band".  His point about the influence that the 4 members (I do not count Nico) had has echoed down time.
For a young lad living in Bristol this album was a revelation!  No Moon and June, this was about drugs, prostitution, S&M, hurt, pain and loss.  It was the real music, real rock!  It was not a commercial success at the time, in fact it was almost totally ignored by the music press of the time.  I first heard tracks from the album while listening to John Peel's radio show.  (I have so many things to thank JP for).  From the time I bought my first copy, this has been one of my essential albums.
The track listing is;
1.         Sunday Morning
2.         I'm Waiting for the Man
3.         Femme Fatale
4.         Venus in Furs
5.         Run Run Run
6.         All Tomorrow's Parties
7          Heroin
8          There She Goes Again
9          I'll Be Your Mirror
10        The Black Angel's death Song
11        European Son
From raw noise to drones, from simplistic words to complex lyrics this album has it all.  Rolling Stone published a list of the 500 essential albums and this was the thirteenth.  It is a marvelous record, it launched Lou Reed and John Cale, it was the precursor to Punk, it made writing about real issues possible. The number of people who quote VU as being an influence is beyond counting.  This was, truly, a seminal album.  It really is one of my essential albums.
---