My 100 Essential Albums number 12 The Complete Recordings by Robert Johnson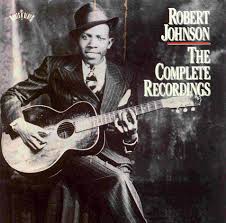 This is, for me, one of my essential albums because it really shows what real blues was all about.  Robert Johnson was the archetypal blues man.  Born in 1911, his family was run out of town by some white businessmen, he was brought up by his mother before being sent to live with his father.  Later he went back to live with his mother and her new husband.  Later on he became an itinerant blues player.
The real myth about Robert Johnson is that he went away for a few months and when he returned he was a much better guitarist.  The story, at the time, was that he had sold his soul to the devil in return for being a master guitar player.  It obviously worked!  Years later while listening to Johnson on the album "King of the Delta Blues Singers" Keef Richards though that there were two guitarists playing!  Hi death is also in keeping with the blues man myths.  He died in 1938, probably after drinking poisoned whiskey.  It was poisoned, it is thought, by a jealous husband because in keeping with the stereotypes Johnson was a hard drinking, hard loving man.
Back to this, one of the most essential albums.  It contains everything that Johnson recorded in 1936 and 1937.  This is what most people regard as the "true" blues.  There is the argument that Johnson does not represent the real blues because blues was a popular music form and so people like the Mississippi Sheiks (a dance band) would represent The Blues.  It is like saying that The Bay City Rollers were more representative of Rock in the latter part of the 20th century because they were more popular than say, The Velvet Underground.
Another reason why this is one of the essential albums of all time is that it is direct link back to type of music that has informed and influenced almost everything that came later.  The songs themselves have been covered by countless others.  Countless musicians have also cited this album as an influence.  Robert Johnson died nearly 80 years ago but he lives on through his music and this album is key to understanding his legacy.
Clearly, a remarkable album and one of my 100 essential albums
---