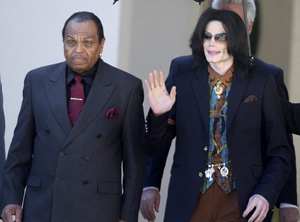 Michael Jackson was a great singer. His personal and financial lives were a mess. The wrangle over money continues.
last week his father (Joe) lost his battle to get some money from the estate. He was also told that he could not challenge the executives named in Michael's will. You will remember that Michael had a 'strained' relationship with Joe. MJ had said that at some times during his life, both when a child and as an adult, he had felt physically sick at the sight of his father. So, not a normal close father son relationship, apparently.
It was a bit of a fractious day in court which ended with Judge Beckloff saying; "I don't think he gets to step into this and create further litigation," the judge declared. "Joe Jackson takes none of this estate. This is a decision his son made." Seems fair to me.
Joe can, however, make a claim for living expenses on the basis that Michael was supporting him when he died. What sort of expenses? They include; Rent, $1,200. Dining out, $2,500. Entertainment & holidays, $1,000. Air travel; $2,000. Hotels; $3,000. Those are monthly expenses. The rent seems a bit low for a place in Las Vegas, but he got double his rent to eat out? Learn to cook is my advice. However, perhaps he did not need to rent a big place as he spent almost 3 times his rent on hotel rooms. As for the air travel, has no one in the USA's C list celeb community heard of global warming?
Joe also gets $1,700 per month social security. What?
The funeral. Ah yes. You will remember that until he died Michael was, relatively, poor. that being one of the reasons he agreed to the daunting O2 schedule. However, the estate must be in good shape, what with the album sales and the film grossing squillions of dollars. It has to be to pay for the funeral.
The funeral took place on 3rd September and was really fit for 'The King of Pop'.
$860,000 to Forest Lawn Cemetery for the purchase of plots in the family mausoleum and funeral charges.
$35,000 for funeral garments (presumably Michael's).
$1,975 for the family's wardrobe. (?)
$2,000 for the ushers' costumes.
$3,682 to frame a photo of Michael (the one next to the coffin).
$959 for embroidery.
$11,716 for invitations (and prgrammes).
$30,000 for security and cars.
$15,000 for a funeral designer/director.
$21,455 for the 'funeral repast'. (When I go there will be a couple of hundred quid behind the bar at my local).
In order to pay for the funeral Kathleen (Michael's mother) filed papers with the administrators of the state for money to be released only 3 days before the funeral. They, obviously, had to agree. Apparently the papers said that without the funds being released that "the funeral will not proceed." If that happened it would have caused Kathleen and the family "public embarrassment and added grief, along with the daunting task of having to make new arrangements."
Surely they should have sorted out the money before arranging the funeral?
A statement for the family said;
"Mrs. Jackson and her family wish to honour her son by a funeral that seeks to offer solace to his multitude of fans and by which the family also may be comforted," the attorneys said. The costs were substantial but "entirely commensurate with the decedent's worldwide status as an entertainer and the world's grief over his death."
It is all such a mess.
Outside court on Tuesday, lawyer Howard Weitzman, who represents the administrators, said: "I would have done it less expensively. But it was Michael Jackson, who was larger than life. There's no reason he should not have a funeral that's larger than life."
Isn't there is something odd about saying that a funeral should be larger than life?
The funeral costs were on top of the costs of the Staple Centre tribute…………
---