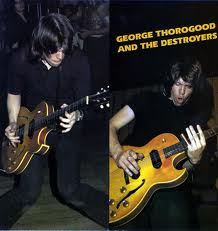 Recorded in 1977 this was the first Thorogood album.  Mainly blues covers with only two self penned songs it introduced me to the talent that is George Thorogood.  A love of blues shines through the playing.  It is one of those things, 10 bands can play the same song but you know instinctively which band really feels the music.  Add to that passion a deep talent and you get an album like this. 
His influences are obvious, Hound Dog Taylor, Elmore James, John Lee Hooker and Bo Diddley.  You can tell from that list that this will not a willo' the wisp, guitar twiddling, feint hearted album.  This is full on rocking blues of the highest calibre. 
The riffs may be the same but the passion that he displays seem to make them his own.  The power of the music that this band produces explains why the album stands the test of time.  It is also why they have been one of my fave live bands for the last 35 years.
---