My 100 Essential Albums – 8 Disraeli Gears by Cream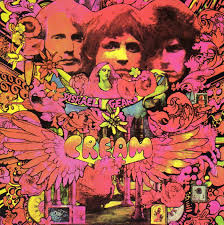 Released in November 1967 this was Cream's second album and regularly features in lists of the top 100 essential albums.
After the blues influenced, softer Fresh Cream, their first album, Cream embarked on a different, heavier, path.  This is, perhaps, the prototype for later heavy groups while Cream retained their blues feeling on tracks like "Outside Woman Blues", "Take it Back" and "Strange Brew".  This last owes a lot to "Lawdy Mama" using an Albert King type solo to such good effect.
The stand-out moments on the album come thick and fast. Not just the guitar work of Clapton, but also the innovative bass work by the recently departed Bruce.  Add to them the mesmeric playing of the wonderful Ginger Baker and here is a band that changed rock.  Even the strange "Mother's Lament" has a quality and charm that endeared itself to young lads (me included) everywhere.  It was not only the musicians who were of the first order.  It was produced by Felix Pappalardi who went on to play bass in Mountain (taking Cream's sound with him, some say).  The engineer was Tom Dowd who worked on "Layla and Other Love Songs".  Mind you Dowd did have his off days, he also worked on the excruciatingly bad "461 Ocean Boulevard"
The album was their break through album in the USA, they were already popular and well known in the UK.  This is in spite of the album taking a mere 4 days to record, which is just as well as the band's visa to the USA ran out on the last day of recording.
As I was compiling my list of 100 essential albums the actual rank for each one became problematic.  Is this really better than the George. Thorogood album at number 9?  It all depends on my mood, of course, but what I do know is that this is a great album and "Strange Brew" is a fine, fine rock track.
As essential albums go this is so automatic it should be illegal
---