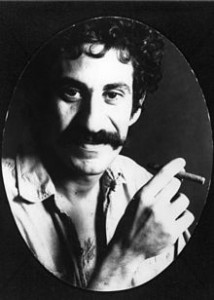 On this day in 1973 Jim Croce reached number 1 in the Billboard charts with Bad Bad Leroy Brown, 2 months later he died in a plane crash blamed on pilot error. 
Born into an Italian family in South Philadelphia in 1943 he showed an interest in music from when he was 5 learning to play the accordi0n.  Music was a hobby rather than a career choice for Croce for a long time.  When he did start to take music seriously he had already met and fallen in love with his future wife, Ingrid.  Their wedding present from her parents was $500.  the only stipulation was that it was to be used to make an album.  Their hope was that the album would fail to sell and he would give give up music nd get a real job.  (It reminds me of "Get A Haircut" by George Thorogood – an ace song you must listen to if you don't know it already).
Sadly for the in-laws, all 500  copies sold.  The album was "Facets".  Life as a performer was not easy, though.  In '68 they moved to New York having been encouraged to by their producer, Tommy West.  Eventually they sold all their possessions (except one guitar) to pay the rent and eventually had to move back to  Pennsylvania.  There Jim worked at many manual jobs including construction jibs and driving trucks.  Soul destroying work but it did give him great material for later songs such as "Working at the Car Wash Blues".  He kept writing songs and did not lose his determination to be a performer. 
Success, when it came was not an over night recognition by us the public to Croce's talent.  It was a slow awakening.  One important step on the road came in 1970 when Croce met Maury Muehleisen.  Muehleisen was a singer songwriter and initially Croce backed him on stage.  Over time the roles reversed and Muehleisen began to play the wonderful twiddly bits on Croce's songs so evident in the following albums.
Croce secured a 3 record deal that would produce "You Don't Mess Around With Jim", "Life and Times", and "I Got a Name".  All went gold in the US. "I Got a Name" was released as a single on 20th September 1973 and it was on that day that Croce, Muehleisen, and 4 others died in a light plane crash.  They were leaving after a concert at Natchitoches on their way to their next concert in Texas.  The crash was blamed on pilot error, he flew into the only tree for hundreds of yards.  The album "I Got a Name" was released posthumously in December 1973. 
---