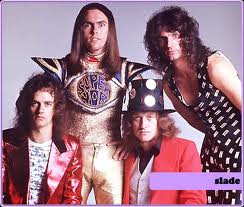 On this day in 1971 "Coz I Luv You" hit the number 1 spot in the UK. It was Slade's first number one and was followed by another 5.
Slade were a jobbing band in the West Midlands of the UK. After adopting a skinhead persona that was ill judged (skinheads had associations with football hooliganism and the far right) they dove head first into glam rock. There followed a series of UK hits directed by their manager Chas Chandler (Ex of the Animals and manager of Hendrix). Although they had a substantial following in the UK they never cracked the US despite moving to the USA in '75 and touring continuously.
They have been credited as being an influence on a number of bands including; Kiss, Queen, Poison, Def Leppard, Oasis (who covered "Cum On Feel the Noize", Cheap Trick, Hot Leg, Twisted Sister, The Clash, The Undertones, Cock Sparrer, The Runaways and Girlschool.
Their influence was summed up in New Musical Express; "They embodied the glorious absurdity of the greatest pop, in the sideburns, the mirrored top hat and Dave Hill's pudding bowl haircut. As such they were the simplest, most effective possible, riposte to prog rock's bloated pretensions and pseudo-intellect." (and I thought that Punk was the ultimate riposte).
So the positives (of which there are many) about Slade. Noddy Holder had a voice that was made for rock, it is certainly up there with Paul Rogers, Robert Plant, and any other rocker that you can think of. As a band they put on a great show, Dave Hill with the strangeness that always appeals in a lead guitarist. A solid rhythm section ensured that they were always straight on and never stumbled. Above all they revelled in good time rock and roll.
However, they were responsible for quite possibly the most annoying and down right gut wrenching single ever (followed closely by Kid Rock – but don't get me started on him). I refer to, of course, that scourge of all who love rock -"Merry Xmas Everybody". If ever a single should have been strangled at birth…………….
---