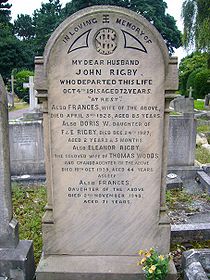 On this day in 1938 Eleanor Rigby died. She was 44 and died peacefully in her sleep. She is buried in the graveyard of St. Peter's Parish Church in Woolton, Liverpool. It is close to where Paul and John first met 19 years later.
It would be nice to think that McCartney saw the gravestone on that fateful day and the name stayed with him. Not so, The original name used in the song was Daisy Hawkins.
Said McCartney in an interview about the album Revolver on which the song appears. "I was sitting at the piano when I thought of it. The first few bars just came to me, and I got this name in my head… 'Daisy Hawkins picks up the rice in the church'. I don't know why. I couldn't think of much more so I put it away for a day. Then the name Father McCartney came to me, and all the lonely people. But I thought that people would think it was supposed to be about my Dad sitting knitting his socks. Dad's a happy lad. So I went through the telephone book and I got the name McKenzie."
In fact the name Eleanor Rigby came from a store in Bristol (Rigby & Evans Ltd) and Eleanor Bron a great British actress who appeared in Help!
Many people say that Eleanor Rigby was a seminal record from the use of a string octet to the sad and serious subject matter. None of the Beatles play on the track although there are harmonies from John and George (obviously, not only could Ringo not play according to Paul he could not sing either).
<object width="425″ height="344″><param name="movie" value="http://www.youtube.com/v/0Q8vl8wFm7g&hl=en&fs=1&"></param><param name="allowFullScreen" value="true"></param><param name="allowscriptaccess" value="always"></param><embed src="http://www.youtube.com/v/0Q8vl8wFm7g&hl=en&fs=1&" type="application/x-shockwave-flash" allowscriptaccess="always" allowfullscreen="true" width="425″ height="344″></embed></object>
<iframe src="http://rcm-uk.amazon.co.uk/e/cm?t=rearocandblu-21&o=2&p=8&l=as1&asins=B002BSHWUU&fc1=000000&IS2=1&lt1=_blank&m=amazon&lc1=0000FF&bc1=000000&bg1=FFFFFF&f=ifr" style="width:120px;height:240px;" scrolling="no" marginwidth="0″ marginheight="0″ frameborder="0″></iframe>
---