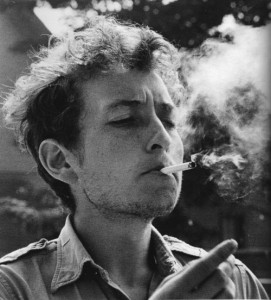 On this day in 1965 one of Dylan's most iconic songs was released as a sing.  Like A Rolling Stone at 6 minutes long was considered too long and too 'heavy' to be a single and Columbia resisted releasing it.  It was only released after it had been leaked to a popular night club where influential DJs heard, and loved, it.  It was, and is, Dylan's most successful single reaching number 2 in the USA and number 4 in the UK.
The song itself was written after a long and exhausting tour of the UK.  It probably started life as a 10 or more page rank referred to as a 'piece of Vomit' by Dylan.  It talked about loneliness, loss, and compassion, not the staple of love and romance that were the main themes for hit singles.  Robert Shelton, Dylan biographer, said "A song that seems to hail the dropout life for those who can take it segues into compassion for those who have dropped out of bourgeois surroundings. 'Rolling Stone' is about the loss of innocence and the harshness of experience. Myths, props, and old beliefs fall away to reveal a very taxing reality."
Whatever it was really about and how you look at it one this is obvious. It was revolutionary. It took 2 fraught days to record, started in ¾ time. Mike Bloomfield played guitar, Al Kooper sat in on organ, although originally that part was slated to be on piano.  All in all, the song evolved and found itself as the musicians explored it.  The organ sound was brought up in the mix because Dylan liked it and against the best advice of  Tom Wilson, the producer.  Even after the take that became the single was recorded Dylan insisted that the band keep recording.  There were another 11 takes.
There has been a lot written about this song.  Many people think that it was the finest thing that Dylan ever recorded.  Certainly it was influential as it has been covered by Hendrix, the Stones, and Green Day amongst many others.  Every local pub band in the land uses it as a got stand by.
This song changed popular music. Or perhaps more correctly, it changed the way the men in suits in record companies looked at possible singles.  This song was raucous. It had electric guitar licks and a loud organ on a 'folk' record.  It was 6 minutes long.  It was about despair and loss, not about love.  In spite of all the received wisdom, people loved it and bought it.  It changed recorded popular music and elevated Dylan and propelled his career to new heights.
---