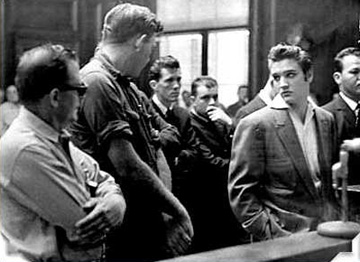 On this day in 1956 Elvis was involved in a fist fight.  He had stopped at a petrol station in Memphis to get some petrol and was mobbed by teenagers.  The petrol station manager wanted him to go away so that he could start selling petrol again.  Tempers became frayed and the owner, Ed Hopper, hit Elvis on the head (You should not mess with a rock star's hair!).  Elvis, in turn, hit him in the eye.  Hopper's assistant, Aubrey Brown, went to help his boss and got much the same.
Ed Hopper brought charges but they were thrown out of court 4 days later as all the fans confirmed that Elvis did not start the fight.  Hopper and his 6'4″ assistant were fined, and promptly sacked by the petrol station owner.
Three days after the petrol station episode Elvis went to the movies.  Surprise, surprise, he was mobbed, again.  This time the only damage was to Elvis' car.
Perhaps Elvis should have realised that he could not just go out in public without attracting a crowd….  Only a month later Elvis was attacked again.  This time by Louis Balint.  His beef with Elvis was that his wife carried a photo of Elvis in her purse.  Balint was fined for assault but as he was destitute he was sent to jail instead.
All in all, quite an eventful week for Elvis.   Towards the end of the week Elvis got a his first letter from the draft board……………
---