On this day in 1968 led Zeppelin played their first gig, probably.  There is some confusion due to the short time that the band called themselves 'The New Yardbirds'.  Also, some internet sources quote the 15th October 1968 as being the first Zepp gig, but that appears to be an error.  Jimmy himself presented a plaque to the University of Surrey to commemorate the 35th anniversary of the first gig – on 25th October.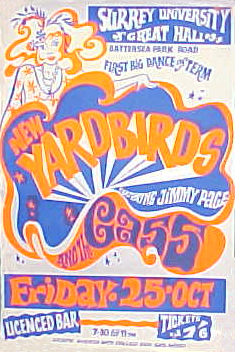 Having completed a short Scandinavian tour as the New Yardbirds the band played a gig at The Marquee in London on 18th October and at Liverpool University on the 19th.
On the 25th the Jimmy's  band, now called Led Zeppelin made their live debut at Surrey University.  The admission was an amazing 37.5p. Details of the set list are a bit shakey but given previous gigs it is likely that the set list included some Yardbird favourites such as Train Kept a Rollin', Dazed and Confused, White Summer and likely For Your Love.  New Led Zepp tunes were also played and would probably included Communication Breakdown, I Can't Quit You Baby, You Shook Me, Babe I'm Gonna Leave You, and How Many More Times.
dazed and confused from 1969 before they became the world devouring mega band that ruled the world………..
By the way, this is a rare recording of the Yardbirds (with Jimmy) playing the 'same' song. I know which has my vote….
And finally, Zepp just a few months after the first clip. What a band! That voice, Jimmy doing his stuff perfectly complimented by that bass and drums. Perfect!
The first magnificent album.

And the 'difficult' second album….

---