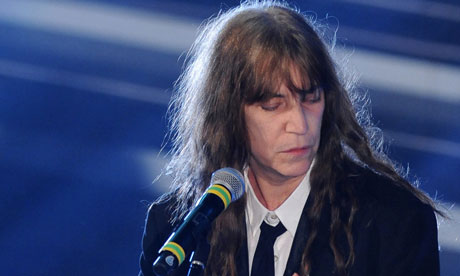 Patti Smith: 'One of the few figures with a firm handle on the shaman-poet imperative.'
Patti is 65 and has released her 11th album. Banga has received great critical acclaim.  The Observer was particularly fulsome in its praise.
"People often talk about music fandom as a secular religion, one of many founded in the 20th century to replace the old church. In the communal gig experience there is the rush of elevation. Lyrics are studied like scripture. Fans are devoted to their idols. The trouble is, the idols aren't often all that awe-inspiring. Rock has long resembled a cacophony of minor deities waiting for some proper monotheism to come along.  One of the few figures with a firm handle on the shaman-poet imperative has been Patti Smith. Banga is the 65-year-old's 11th album, one of the most satisfying of her latterday career. A performance poet before she ever got a band together, Smith's electrified presence and aggressive, incantatory style – part Dylan, part Jersey girl – have always aspired to a frequency that you might call sacred, if that word hadn't been sullied by the so-called new age. "Oh crown of wind, two royal leopards run with him," she murmurs on Seneca as circuitous guitar tones set out a mantric path. Out of context it might read like sophomoric poeticism, but like every song Smith sings it comes to the ear like a spell."
What can I say?  I love this woman.  I love her and all her works with a passion.  This what grown up music sounds like, spellbinding, beautiful, mysterious and seriously though provoking.
The main point is that we can all see her, again.  My only problem is that I have booked seats to take Jane to see an Abba tribute band, as a surprise and that happens to be on the same night as Patti is in Manchester.  As it is a surprise, if I don't tell her she won't know what I had planned……………..
---