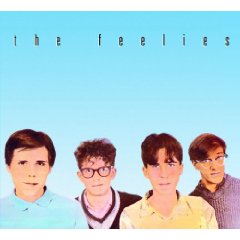 We have all read the publicity blurbs about this or that 'must have ' reissue. Generally they are for second rate didn't-make-it-first-time-may-make-it-this-time-anyway-it-was-gathering-dust-on-the-shelf albums. It is good, very good, to find one reissue of a real my-life-would-not-be-complete-without-it album.
The Feelies were great. They came from New jersey and were called the best underground band in New York by the Village Voice in 1976. The reissue is of their first album released on Stiff Records (always a good sign) in 1980 it is called 'Crazy Rhythms'. With smart lyrics drawing comparisons with the Velvets and a real rock attitude and energy they were an amalgam of what went before but with their own stamp.
The influences are all there to see. The vocal delivery owes a lot to Lou and the Velvets,as does the uncomplicated drumming, there is something of Patti in there and Iggy. Comparisons to early REM – they were contemporaries after all. I am not saying that they were clones of The Velvet Underground (mind you I have included a great version of 'What Goes on' at the end of this review), The Stooges, or a poor man's REM. They were 100% Feelies.
perhaps oddly REM have quoted The Feelies as a major influence. perhaps if the Feelies released more than one album every 6 years they would be better known…….
This album has been unavailable for over 10 years and so this is a real reissue, not a repackaged 'remastered' reissue. One of the essential albums for any collection.
1. Boy With Perpetual Nervousness, The
2. Fa Ce'-La
3. Loveless Love
4. Forces At Work
5. Original Love
6. Everybody's Got Soemthing To Hide (Except Me And My Monkey)
7. Moscow Nights
8. Raised Eyebrows
9. Crazy Rhythms
---