Berlin by Lou Reed is his greatest album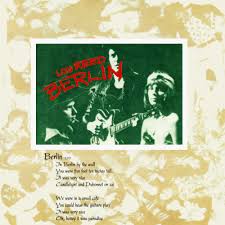 Released in 1973 this is a superb Album. I am biased as I love Lou Reed and all his works, well, the majority of his works I have Metal Machine Music but can not say that I play it. However Berlin is a wonderful album, it is the sort of album that you want everyone to listen to because it is that good.
On its release the critical response was mixed to say the least, Rolling Stone called it a "disaster". However, in the UK it reached number 7, which goes to prove what a discerning lot we are. It only reached number 98 in the States, which says something about their tastes……..Since its release Berlin has grown in reputation and stature and came in at number 344 in the Rolling Stone list of the top 500 albums of all time. A miserly rating for such a great album.
There are some justified comments about Berlin that critics seize upon. There is not a lot of original material. Most of the songs have been heard before in various reincarnations. Berlin made its first appearance on his first solo album, but it is very much reworked here. Caroline Says II is actually Stephanie Says from VU days. Sad Song and Men of Good Fortune were played by The Velvet Underground. Having said that Lou reworked existing material for his first two albums and Berlin is no different.
What is different is that Berlin was a "rock opera" – a dreadful term. It tells the story of a failing relationship. It deals with dark themes including prostitution, drug use, domestic violence and suicide. This is no a happy album. It is not an easy listen, looking at my list of essential albums not that many are easy, Berlin is the only one that has kids crying on it, though! However, Berlin does have some sublimely beautiful moments in it. It is a quality album and well deserves its inclusion in this list of essential albums.
---