It's A Beautiful Day , a supreme summer of love album, with attitude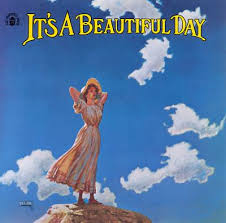 Released in 1969 this is a tremendous album that rewards repeated listening and I can not imagine being parted from it for any length of time.  Perhaps that is a quick definition of an essential album.  When I picked up the album in a record shop I dismissed the claim on the back cover that David LaFlamme played violin like Hendrix played guitar. I was wrong.
Looking back it may seem strange that I loved this album while also loving Velvet Underground and Beefheart, but I do not think that it is that strange. It's A Beautiful Day sounds like a quintessential Summer of Love album, but it isn't. The songs have an edge. White bird was written by LaFlamme and his wife while living in a cold and wet Seattle while they were broke and had little food. "Girl With No Eyes" is beautiful love song but so sad. Other tracks are not Summer of Love at all even though It's A Beautiful day were saddled with that association. "Wasted Union Blues", "Bombay Calling" and "Bulgaria" all show the power of the band.
The stand out track is "Time Is" a lovely evocation of love. The intertwining voices of LaFlamme and the remarkable Patti Santos, sadly no longer with us, sums up It's A Beautiful Day for me. A band of power and beauty, and a remarkably good live band. I saw them at Them at The Bath Festival of Blues and Progressive Music bizarrely held at Shepton Mallet in 1970. It's A Beautiful Day more than held their own against the other bands appearing that included; Led Zeppelin, The Keef Hartley band (who were wonderful), Zappa and the remarkable Hot Tuna.
Those listening to It's A Beautiful day for the first time may think that they recognise "Bombay Calling". It is perfectly possible because it was used by Deep Purple as a basis for "Child in Time".
---