Bitches Brew Number 14 of My 100 Essential Albums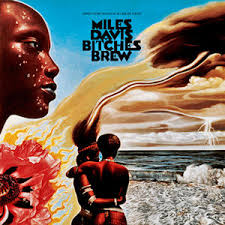 Released in 1970 Bitches Brew is a revolutionary album.  Davis moved from his previous "cool" and "modal" style into a freer, more rhythmic, improvising style.  To be honest I had not listened to much, if any, of Davis' work before this.  I did not know that the use of multiple electric pianos, guitars, two or three drummers and two basses was revolutionary.  I just adored the noise that they made.  The expanded rhythm section provided a solid base for the soloists.
I did not appreciate it at the time but Bitches Brew included many wonderful musicians.  Mind you they had to be wonderful to be able to record this album.  The album itself took just 3 days to record and the musicians were called in at short notice.  As for rehearsals, there were a few, but not many.  It seems that the players were given a few hints about tempo, a few chords, maybe a hit of the melody.  Apart from some comments about the mood that was it.  Davis wanted to work like this so that the musicians had toi listen to each other while they played and give each other space.  It was very spontaneous and you can here Davis saying "keep it tight" at times.
In many ways I was prepared for this album, what with my love of Beefheart.  Trout Mask Replica had come out the year.  After TMR Bitches Brew, shunned by many of the more traditional jazz followers, seemed normal to me.  Normal in a very special way that is.
Bitches Brew opened doors for me into jazz and that would make this one of my essential albums, even if Bitches Brew did not stand up on its own as a fine album.  Through it I started investigating jazz and found Sun Ra, Coltrane, Chick Corea and others.  My life would be much less rich without this magnificent album.  All hail Bitches Brew, a gift to us all.
---