My 100 Essential Albums – Led Zeppelin the eponymous first album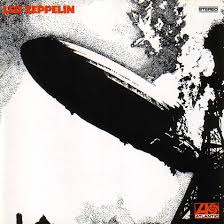 Released in 1969 Led Zeppelin is album was recorded in 1968. It only took 36 hours of studio time to record which might have something to do the band paying for the studio time. The other reason it was quick to record was that a lot of the material were songs that Led Zeppelin had been playing on their inaugural Swedish tour. Also, some of the material was based on the Yardbirds' numbers that Jimmy Page knew so well. To this day people complain that it was case of plagiarism. I remember one review comparing Led Zeppelin adversely to the Jeff Beck group as they were playing very similar stuff, both Page and Beck having been in the Yardbirds.
With the honourable exception of Chris Welch in The New Musical Express the album was panned by the music press. The press can maybe forgiven, it was the day of "super groups" but comparisons to Cream, The Jimmy Hendrix Experience were wide of the mark. This was not another over hyped group of musicians, this was a band that played rock music informed by the blues and folk. Led Zeppelin had to fight to prove their authenticity.
Whatever the press said Led Zeppelin was very successful commercially. We bought it in our droves. This was new, improved version of powerful blues rock. It laid the bedrock on which hard rock was built. More than that it was not just heavy, it was intelligent and very well recorded. Jimmy Page produced the album and had the sound he wanted in his head. One innovation was the way he arranged the mikes. Until then, with the exception of Joe Meek and a few others the mikes were in front of the amps, and that was it. Page did that but he also placed mikes back from the amps. He balanced the output to give a more ambient sound. It was like a breath of fresh air.
The music was arranged with dynamics used to produce light and shade. The music and vocals fitted together perfectly. The blues device of call and response was used with Plant's voice echoing Page's guitar. Page used a violin bow to produce the sounds he wanted. Where Vanilla Fudge was heavy they now sounded muddy and confused. Led Zeppelin, both the album and the band changed rock forever.
---