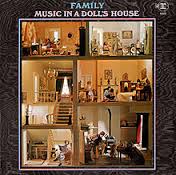 The first album by Family "Music in a Doll's House" (1968) is a strange and wonderful thing. Roger Chapman is blessed with a distinctive, warbling voice. The band were all talented musicians including Ric Grech on bass and Jim King on sax being the most recognised.
Family released this complexly orchestrated album in 1968 and it has been included in lists of great rock albums ever since its release. The band went on to have other well received releases but suffered over the years with in-fights, fist fights and constantly changing personnel. The result being that I do not think that the band reached its full potential.
Having said that this first album was breathtaking in its majesty. I was never a fan of progressive rock but I regard this as more a jazz rock fusion thing, whatever the genre it has remained a firm favourite over the years. I can not imagine a CD collection that did not give me the option to listen to the sound of British prog/jazz fusion at its best.
Standout tracks, for me, are "Old Songs, New Songs", "Mellowing Grey", and "Me, My Friend".
---