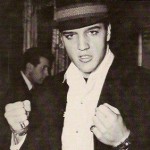 "I'll regret this day as long as I live. I guess lots of people were waiting for this kind of thing to happen. It's getting where I can't even leave the house without something happening to me." (The New York Post, October 19, 1956)
So said Elvis after having an altercation with a Petrol station (gas station for those of you in the USA) on this day in 1956.
Elvis had pulled up to have a smell of petrol coming from his car checked and a crowd had grown round him, people asking for autographs and just plain gawking. The petrol station owner was not amused, no one was buying petrol. He asked Elvis to go away. Elvis stayed so Edd Hopper (the owner) slapped him upside his head. Elvis threw a punch and then an employee of the station Aubrey Brown joined in. The cops arrive and all 3 were arrested. Presley was bailed later in the day. Hopper and Brown were eventually fined $25 and $15 respectively.
All in all, not much of a fight and not much to make a fuss over. However, Elvis being Elvis the news of this minor altercation was featured in the national press. Rock hysteria was pretty new at the time and so was the feeding frenzy of the media. The judge said to Elvis "In the future you should take into consideration that you have a large following and should cooperate fully with business people in order to avoid disruptions." Elvis said that he would, and left the court surrounded by young women. (Not a bad job being a rock star, there are certainly upsides)
This was not the end of Elvis being involved in altercations. November 1956 saw Elvis in a minor bar brawl over a woman, 1957 Elvis pulled a gun on a Marine in a dispute about a women. Something of a pattern developing there.
It would seem that Elvis was something of a scrapper when he was younger but there is nothing to suggest that he was a thug. being involved in fights would appear to be a reflection of the less than affluent area that was home to the young Elvis.
---