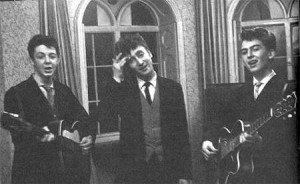 On this day in 1959 Johnny and The Moondogs played an audition for a talent show. Sadly they did not win.
Why should we be bothered about a failed band? Simply because they later became The Silver Beetles, then The Silver Beats and eventually The Beatles. It seems that Lennon took names seriously as The Beatles had some 8 names, including The Beatles (twice!).
Carroll Levis was Canadian born but moved to the UK to work for the BBC. In 1958 and 1959 he ran talent shows and the prize was to appear on either his radio or TV shows both called "Star Search" (some sources say it was called "Search for a Star"). The set up was that the acts performed and later reprised their act while the audience applauded. Using a clapometer it was decided which act was most popular and so the winner.
On 15 November 1959 (or possibly 26th November) The Quarrymen morphed into Johnny and the Moondogs for the talent show. Their line up was John, Paul, George, Colin Hanton (drums), and John Lowe (piano). The auditions took place in The Hippodrome Theatre, Manchester and the band turned up to play. However, they did not have enough money to stay overnight if they had progressed to the next heat and returned to Liverpool without knowing whether they has won or not (they didn't).
There are several questions about this whole episode. The 15th November 1959 was a Sunday, would the theatre be open on a Sunday in those days? Possibly not. An alternative date given for their performance is the 26 November 1959. There is also some question as to what, if anything Lennon was playing at the time. There are reports that Lennon was singing but notplaying at this time. There are other reports that Lennon was indeed playing guitar, a Hofner Club 40. It is known that Lennon was playing this guitar a little later when the Quarrymen (they had changed the name back) played the Casbah club. This is the guitar that Lennon's aunt Mimi bought for him. The photo above is from 1958 and shows Lennon without a guitar, but obviously that proves nothing. There are also reports that Lennon actually stole a guitar to play at the competition. (It has to be said that I was told that some time ago but I have not been able to corroborate this story).
So what do we know? The proto-Beatles took part in a talent show, did not win but did not give up. It is hard for us to look back now and appreciate the change that was happening to society. In post war Britain skiffle had roused something among the youngsters. They became enamoured of the energetic music that was coming from the States, then rock and roll took their desire to express themselves further. There were difficulties and deprivations but a generation was beginning to reject the old staid mores of their parents and the existing society. From such small beginnings………..
---