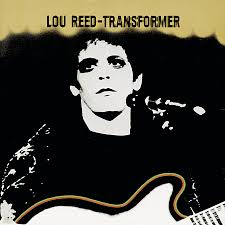 My first experience of Lou Reed's music was courtesy of John Peel's radio show.  Late at night on an old Bakelite radio while reading in bed, typical teenager stuff.  The first Velvet Underground track I heard was (I think) Heroin, but it could have been White Light.  In any event, I was sold.
Following the death of VU Lou's first solo album, Lou Reed, was OK but not earth shattering.  As with Transformer most of the tracks were old VU material.  The stand out tracks were "Lisa Says" and "Berlin".  Transformer (November 1972) was where Lou really nailed it.
All the tracks stand up.  Many displaying the edge that Lou brings to all his writing.  For example, "Satellite of Love" is a love song that shows paranoia and jealousy in the middle section.   Walk on the Wild Side was the single from the album peaking at number 10 in the British charts.  There was even a dance sequence performed by Pan's People on Top of the Pops, and very raunchy it was too, well, for the times…….
Perfect Day is a great song and is one of the few songs that has been covered by the original artist, and covered badly.  In fact, the cover made by Lou (and hundreds of other artists) for the BBC in 1997 is quite possibly the worst cover of all time!  As with a lot of Lou's work the song is either simple and straight forward, or not.  Is it a pure little love song written out of love or does it reflect Lou's relationship with heroin?  As it was used in the film "Trainspotting" the jury is still out and has not made a decision.
The album was co produced by Bowie and Mick Ronson.  There are rumours, never confirmed that Bowie wrote Wagon Wheel.
To conclude, this is the album that confirmed Lou Reed as a major rock artist.  In turn he became an icon of dissolute youth, he is often referred to as the grandfather of Punk.  It is one of the few truly indispensable albums.
Track listing;
Vicious
Andy's Chest
Perfect Day
Hangin' Round
Walk on the Wild Side
Make Up
Satellite of Love
Wagon Wheel
New York Conversation
I'm So Free
Goodnight Ladies
---