On this day in 1955 one of the all time rock classics was recorded by Carl Perkins at Sun Records in Memphis. It later went on to reach number 2 in the US and number 10 in the UK. It has been covered by loads of artists including Elvis (also a Sun Recording artist) and John Lennon.
He had a very poor upbringing. The son of a sharecropper in Tiptonville Tennessee he started working in the cotton fields at the age of 6. He would often finish his school day and then work for several hours in the fields. This upbringing made him resilient and exposed him to Southern Gospel music, whether during regular worship on Sundays or while working in the fields as the black workers sang in the fields.
In what now seems to be almost trite his first guitar was home made cigar box and broom handle affair made by his dad. He learnt to play being taught by a 60 year old John Westbrook a fellow field worker who Carl referred to as "Uncle John". The African American played Gospel and blues and instilled a love of music into a willing Carl.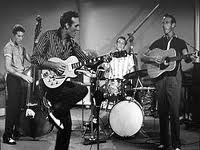 Later the family moved to Madison County and so closer to Memphis and more musical influences. From the age of 14 Carl and his brother played in local bars (while still having day jobs in the fields). Gradually, his repertoire and confidence grew. In 1954 he auditioned for the great Sam Phillips of Sun Records. Later Phillips would say of Carl "I knew that Carl could rock and in fact he told me right from the start that he had been playing that music before Elvis came out on record… I wanted to see whether this was someone who could revolutionize the country end of the business."
Records followed but the great success was "Blue Suede Shoes" recorded on this day in 1955 (or on 19th December depending on who you believe. Carl's immortality was assured.
Perkins was the son of poor sharecroppers near Tiptonville, Tennessee.[3] He grew up hearing Southern gospel music sung by whites in church, and by black field workers when he started working in the cotton fields at age six. During spring and autumn, the school day would be followed by several hours of work in fields. During the summer, workdays were 12–14 hours,
1955, Carl Perkins recorded 'Blue Suede Shoes' at Sun Studios in Memphis. The rock 'n' roll classic became a US No.2 & UK No.10 hit for Perkins in 1956, and has been covered by many acts including Elvis Presley and John Lennon.
---